Deprecated: Function get_magic_quotes_gpc() is deprecated in /customers/c/f/b/pronkprofessionalorganizer.nl/httpd.www/wp-includes/formatting.php on line 4381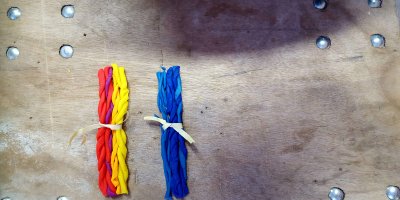 losse eindjes | rond ze af!
Je hebt een geweldig idee, je begint er aan te werken, het gaat goed. Maar het is nèt niet af. En dan blijft het liggen. Want er komen weer andere dingen die belangrijk zijn. Of het laatste stapje is niet zo leuk om te doen. Of je weet niet precies hoe je het nou af moet maken.
Voor veel mensen is dat zo: iets beginnen is leuker dan het afmaken.
En dat geeft een ontevreden en onrustig gevoel.
Wat te doen? 2 stappen maar!
De eerste stap is het inventariseren. Schrijf alles op wat bijna af is. Dat gaat om projecten en projectjes die zo'n 90% af zijn en dat je nog net dat laatste stukje moet doen. Je hebt bijvoorbeeld een opzet gemaakt voor een handig overzicht in excel maar het ziet er nog net niet goed genoeg uit om te delen met je collega's. Of je hebt een blog geschreven en je moet er nog een mooie afbeelding bij zoeken of maken. Of je hebt informatie verzameld over een onderwerp en je hebt het nog niet op een rijtje gezet.
Hoe doe je dat?
Dat kan op verschillende manieren:
Schrijf alles op wat er in je op komt. Ga zitten met een schrijfblok of een leeg document en schrijf al die losse eindjes op. Dat kan in een uur en dan heb je ze allemaal.
Of doe er iets langer over. Schrijf je ze op of leg ze vast elke keer als je aan zo'n niet-af project denkt. Bijvoorbeeld gedurende een week. Dit is trouwens meteen een goede gewoonte om mee door te gaan. Als zo'n los eindje eenmaal op papier staat dan is de kans veel groter dat je dat losse eindje gaat vastknopen.
In huis kan het ook. Loop door je huis en kijk. Noteer alle projectjes die nog liggen te wachten. Soms zie je ze niet eens meer. Loop rond en kijk met je losse eindjes blik. Je hoeft geen onderscheid te maken in privé of werk. mooi op orde is voor zakelijke projecten, maar ook privé projecten die niet af zijn kunnen je behoorlijk in de weg zitten. Vooral als je thuis werkt.
Op het werk doe je hetzelfde. Kijk op je bureau. Blader door je aantekeningen. Kijk in je mail: het zijn de mails die je steeds opent en toch weer parkeert voor later.
Wees meedogenloos: alles wat niet af is schrijf je op. Niet verstoppen, of denken dat maak ik morgen dan wel even af: opschrijven.
En dan?
Al die losse eindjes noteer je op iets dat er uit ziet als een actielijstje. Dat kan in Excel, Wunderlist, Habitica of Old School op een klembord. Dan ga je ze afwerken. Dat is de volgende stap.
De tweede stap.
Deze stap lijkt het moeilijkst, maar is een stuk makkelijker als je stap 1 eenmaal hebt gedaan. Echt waar!
Reserveer een hele dag in je agenda. En ga gewoon het lijstje afwerken. En begin met de makkelijkste. Als je die gedaan hebt voel het al goed: je hebt al iets af. Doe dan iets waar je geen zin in hebt: eat the frog first.
Alleen bij de mooi op orde methode doe je eerst iets leuks natuurlijk, dus eat the frog second

Als een hele dag reserveren echt niet lukt: reserveer een ochtend per week, of 1 uur per dag bijvoorbeeld om de taken af te werken en je projecten af te ronden. Zet het in je agenda, dat helpt. Reserveer de tijd en doe het gewoon.

Wat ook kan is dat je iets tegenkomt dat je niet af gaat maken. Gooi het weg of beslis om het te laten wat het is. Stel jezelf de vraag : draagt dit ergens aan bij of levert het iets op? Als het antwoord nee is dan is het project niet meer relevant. Schrijf het project of taak dan af. Maak het niet af om het afmaken. Ook dat ruimt lekker op. Maar schrijf het wel eerst op je lijstje, het is zo fijn om af te strepen!

Dan blijven er toch grotere taken over. Bleek het toch iets meer werk te zijn om het af te maken. Die plan je in. Zet ze meteen in je agenda.

Lekker gevoel: het is af! Je bent tevreden over jezelf en opgelucht.

Dan ontstaat er ruimte voor nieuwe ideeën en projecten, of gewoon alleen maar ruimte is ook al lekker.

Ga jij de losse eindjes wegwerken en eindelijk je projecten afronden? Reageer, ik ben benieuwd.

mooi op orde
dag zorgen en rompslomp,
hallo extra tijd voor leuk en mooi werk

Deprecated: Function get_magic_quotes_gpc() is deprecated in /customers/c/f/b/pronkprofessionalorganizer.nl/httpd.www/wp-includes/formatting.php on line 4381 Deprecated: Function get_magic_quotes_gpc() is deprecated in /customers/c/f/b/pronkprofessionalorganizer.nl/httpd.www/wp-includes/formatting.php on line 4381 Deprecated: Function get_magic_quotes_gpc() is deprecated in /customers/c/f/b/pronkprofessionalorganizer.nl/httpd.www/wp-includes/formatting.php on line 4381 Notice: compact(): Undefined variable: limits in /customers/c/f/b/pronkprofessionalorganizer.nl/httpd.www/wp-includes/class-wp-comment-query.php on line 853 Notice: compact(): Undefined variable: groupby in /customers/c/f/b/pronkprofessionalorganizer.nl/httpd.www/wp-includes/class-wp-comment-query.php on line 853 Notice: compact(): Undefined variable: limits in /customers/c/f/b/pronkprofessionalorganizer.nl/httpd.www/wp-includes/class-wp-comment-query.php on line 853 Notice: compact(): Undefined variable: groupby in /customers/c/f/b/pronkprofessionalorganizer.nl/httpd.www/wp-includes/class-wp-comment-query.php on line 853 Deprecated: Function get_magic_quotes_gpc() is deprecated in /customers/c/f/b/pronkprofessionalorganizer.nl/httpd.www/wp-includes/formatting.php on line 2442