Deprecated: Function get_magic_quotes_gpc() is deprecated in /customers/c/f/b/pronkprofessionalorganizer.nl/httpd.www/wp-includes/formatting.php on line 4381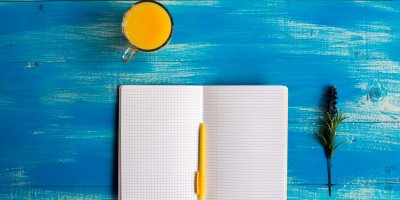 Notice: Trying to access array offset on value of type null in /customers/c/f/b/pronkprofessionalorganizer.nl/httpd.www/wp-content/plugins/js_composer/include/autoload/vc-shortcode-autoloader.php on line 64 Notice: Trying to access array offset on value of type null in /customers/c/f/b/pronkprofessionalorganizer.nl/httpd.www/wp-content/plugins/js_composer/include/autoload/vc-shortcode-autoloader.php on line 64
Notice: Trying to access array offset on value of type null in /customers/c/f/b/pronkprofessionalorganizer.nl/httpd.www/wp-content/plugins/js_composer/include/autoload/vc-shortcode-autoloader.php on line 64
Er zijn heel veel manieren om actielijstjes te maken. Is er ook één goede?
Tijdens de training The Artist's Way* heb ik geleerd op elke dag Morning Pages te schrijven. Morning Pages zijn een soort dagboek, maar dan een dagboek dat je niet meer terugleest. Alles opschrijven zonder censuur wat er aan gedachten in je hoofd opkomt. Ik doe dat nog steeds zo'n 4 keer per week. Het ruimt op en het verfrist en nieuwe inzichten en ideeën ontstaan. Het wordt ook wel eens braindump of mindsweep genoemd.
Als ik zo schrijf 's ochtends zijn er ook altijd gedachten over dingen die ik nog moet doen, soms ook plannen voor die dag. Die schrijf ik nu apart op. Alsof mijn hoofd of mijn onderbewuste 's ochtends vroeg, nog niet helemaal wakker, heel goed weet wat de prioriteiten zijn. Of is het de intuïtie die dan spreekt, of nee, schrijft?
Ik heb gemerkt dat als ik dit lijstje gebruik voor die dag dat ik dan de goede dingen doe en ook heel tevreden ben aan het eind van de dag.
Eerst schreef ik dat lijstje dan over in mijn to-do lijst in Outlook. Maar ik merkte dat ik dan toch dingen ging veranderen en toevoegen. Nu maak ik een foto met mijn telefoon. Mijn telefoon stuurt de foto naar Dropbox en dan zie ik het lijstje meteen op mijn scherm op mijn computer. En hij kan gewoon mee onderweg. (Ook als je geen Dropbox gebruikt werkt het, je stuurt de foto per mail of je kijkt op je telefoon). Ik gebruik ook nog steeds Outlook. Het gaat goed samen.
Vaak is heel efficiënt ook heel simpel. Probeer het eens. Ik lees graag je ervaringen!
Notice: Trying to access array offset on value of type null in /customers/c/f/b/pronkprofessionalorganizer.nl/httpd.www/wp-content/plugins/js_composer/include/autoload/vc-shortcode-autoloader.php on line 64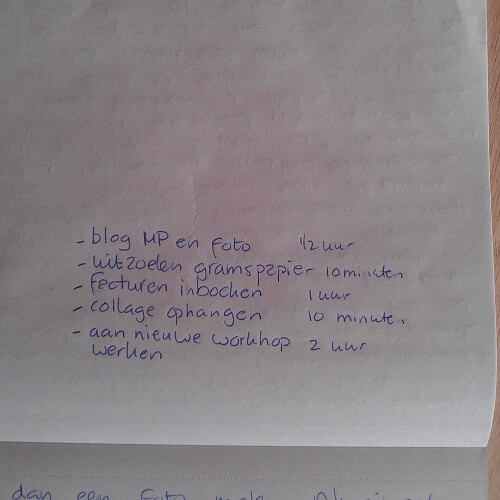 * De Artist's Way training  is ruim twintig jaar geleden ontwikkeld om blokkades bij kunstenaars op te lossen. Dit blijkt niet alleen te werken voor kunstenaars, maar voor iedereen die verlangt naar een leven met meer creativiteit en inspiratie. 

Deprecated: Function get_magic_quotes_gpc() is deprecated in /customers/c/f/b/pronkprofessionalorganizer.nl/httpd.www/wp-includes/formatting.php on line 4381 Deprecated: Function get_magic_quotes_gpc() is deprecated in /customers/c/f/b/pronkprofessionalorganizer.nl/httpd.www/wp-includes/formatting.php on line 4381 Deprecated: Function get_magic_quotes_gpc() is deprecated in /customers/c/f/b/pronkprofessionalorganizer.nl/httpd.www/wp-includes/formatting.php on line 4381 Notice: compact(): Undefined variable: limits in /customers/c/f/b/pronkprofessionalorganizer.nl/httpd.www/wp-includes/class-wp-comment-query.php on line 853 Notice: compact(): Undefined variable: groupby in /customers/c/f/b/pronkprofessionalorganizer.nl/httpd.www/wp-includes/class-wp-comment-query.php on line 853 Deprecated: Function get_magic_quotes_gpc() is deprecated in /customers/c/f/b/pronkprofessionalorganizer.nl/httpd.www/wp-includes/formatting.php on line 2442