Deprecated: Function get_magic_quotes_gpc() is deprecated in /customers/c/f/b/pronkprofessionalorganizer.nl/httpd.www/wp-includes/formatting.php on line 4381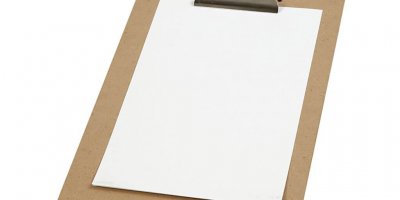 old school | klembord planning
Notice: Trying to access array offset on value of type null in /customers/c/f/b/pronkprofessionalorganizer.nl/httpd.www/wp-content/plugins/js_composer/include/autoload/vc-shortcode-autoloader.php on line 64 Notice: Trying to access array offset on value of type null in /customers/c/f/b/pronkprofessionalorganizer.nl/httpd.www/wp-content/plugins/js_composer/include/autoload/vc-shortcode-autoloader.php on line 64
Notice: Trying to access array offset on value of type null in /customers/c/f/b/pronkprofessionalorganizer.nl/httpd.www/wp-content/plugins/js_composer/include/autoload/vc-shortcode-autoloader.php on line 64 Notice: Trying to access array offset on value of type null in /customers/c/f/b/pronkprofessionalorganizer.nl/httpd.www/wp-content/plugins/js_composer/include/autoload/vc-shortcode-autoloader.php on line 64
Makkelijk te gebruiken tools en een manier van werken die je bij je past: daar gaat mooi op orde over. Een klant stuurde mij een appje: "help, ik werk aan 5 projecten tegelijkertijd en ik ben het overzicht kwijt. kan jij iets voor me maken zodat ik mijn projecten in één keer kan zien? ". Vooral dat zien was belangrijk, het mocht niet elektronisch zijn.
Sommige mensen werken graag op papier. Vooral met actielijstjes en planningen. Deze klant had een actielijst op haar computer maar vond dat niet handig. Ze miste het overzicht en werd daar heel onrustig van. Een actielijst met alle projecten er in heeft ze ook nog geprobeerd. Ook dat gaf haar niet het gewenste overzicht, het werd er nog complexer van.
Ik heb voor elk project een A3 gemaakt met de naam van het project, het doel, het wat, de tijdsinschatting, de deadline en het hoe.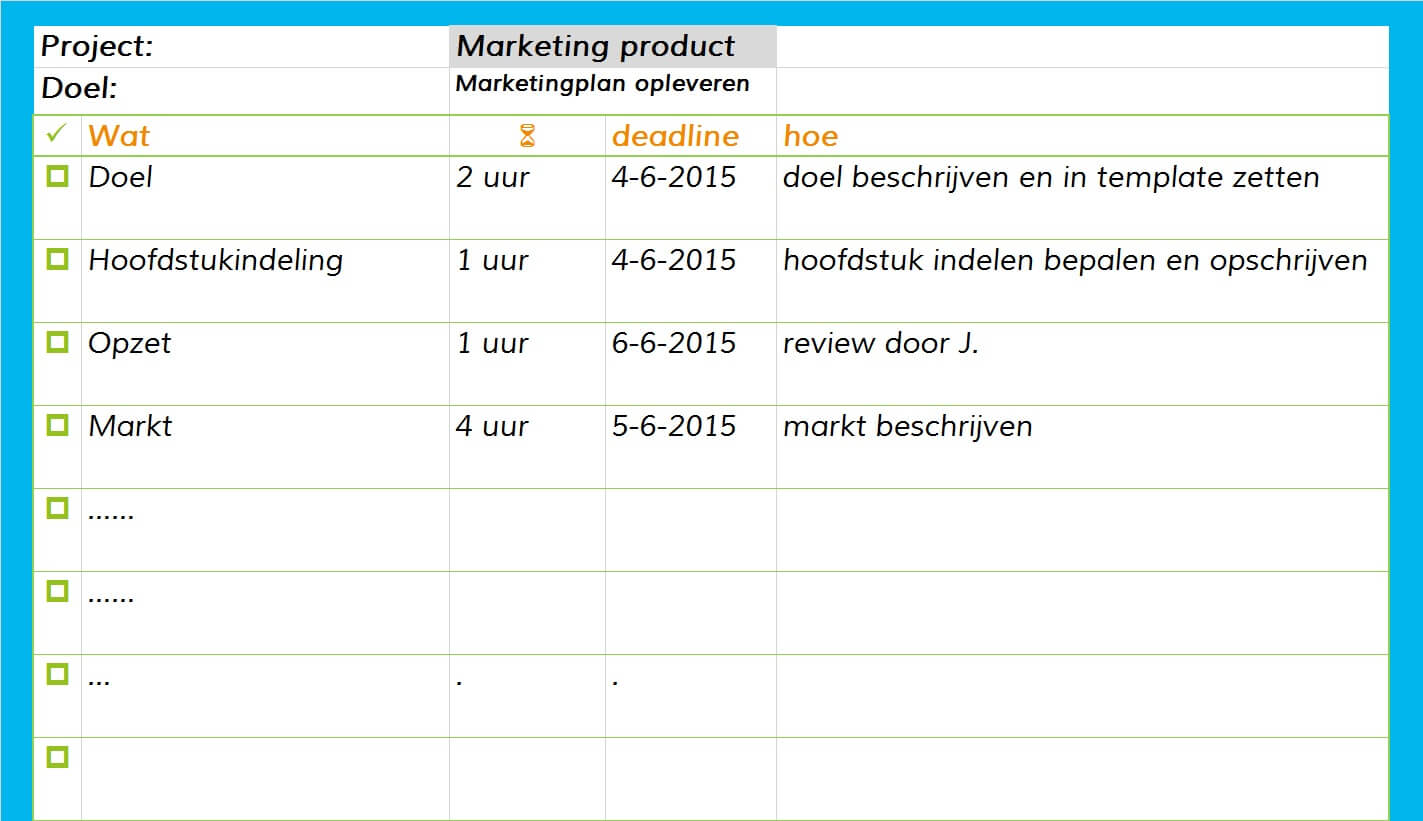 Deze methode heeft de goede dingen van plannen en timemanagement in zich:
• nadenken over welke activiteiten er zijn
• een project opdelen in kleineren stukjes
• een schatting maken van de benodigde tijd en
• plannen in de tijd.
En een grote bonus: de klemborden van de verschillende projecten naast elkaar geven in één oogopslag overzicht van alle lopende projecten. Dat lukt je elektronisch niet als je veel projecten tegelijkertijd doet.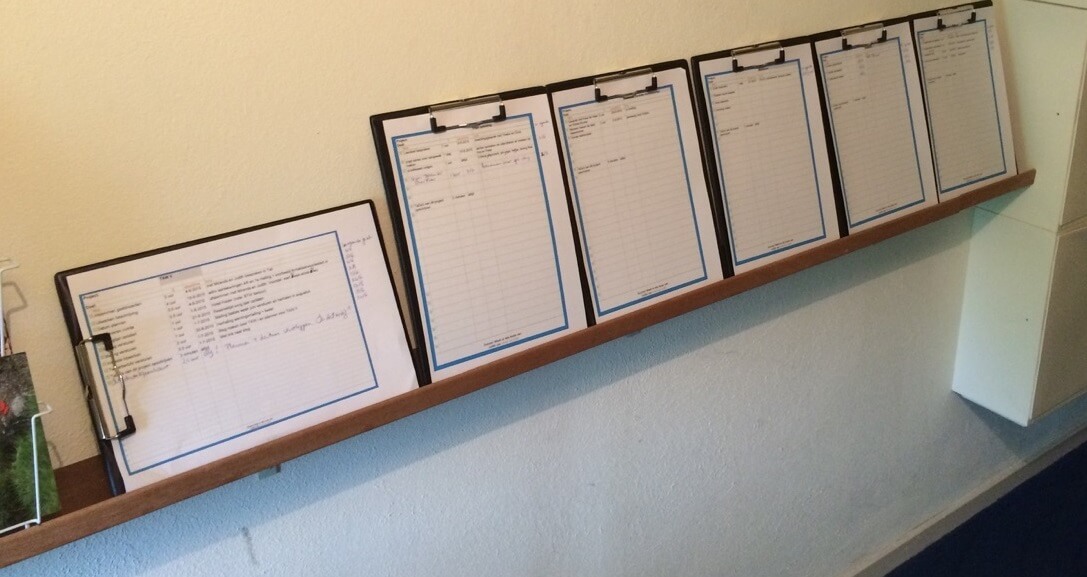 Als een project ingewikkelder wordt met veel afhankelijkheden, veel activiteiten van anderen of langere doorlooptijden dan is deze methode minder geschikt. Dan is het beter om MS Project te gebruiken of een andere project tool of workbench.
Maar als je veel kleineren projecten hebt waar je tegelijkertijd aan werkt èn visueel bent ingesteld dan is dit zeker een goede manier om te proberen.
Klemborden zijn te koop bij Bruna. Er is zelf een klemborden shop.
Zin in DIY? Zo kan je het klembord zelf maken zie thelifefactory.be
Natuurlijk ook te koop bij Staples. In sommige winkels worden ze schrijfplaat genoemd (Office-Deals)
Wil je ook deze handige en mooi template voor je projecten? Stuur me een bericht dan maak ik er ook één voor jou.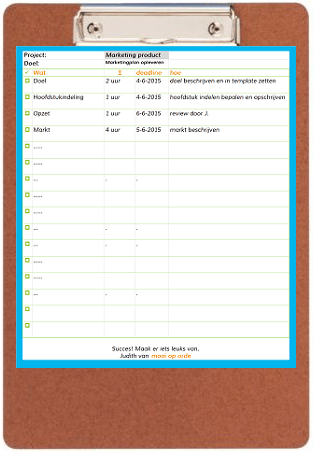 Deprecated: Function get_magic_quotes_gpc() is deprecated in /customers/c/f/b/pronkprofessionalorganizer.nl/httpd.www/wp-includes/formatting.php on line 4381 Deprecated: Function get_magic_quotes_gpc() is deprecated in /customers/c/f/b/pronkprofessionalorganizer.nl/httpd.www/wp-includes/formatting.php on line 4381 Deprecated: Function get_magic_quotes_gpc() is deprecated in /customers/c/f/b/pronkprofessionalorganizer.nl/httpd.www/wp-includes/formatting.php on line 4381 Notice: compact(): Undefined variable: limits in /customers/c/f/b/pronkprofessionalorganizer.nl/httpd.www/wp-includes/class-wp-comment-query.php on line 853 Notice: compact(): Undefined variable: groupby in /customers/c/f/b/pronkprofessionalorganizer.nl/httpd.www/wp-includes/class-wp-comment-query.php on line 853 Deprecated: Function get_magic_quotes_gpc() is deprecated in /customers/c/f/b/pronkprofessionalorganizer.nl/httpd.www/wp-includes/formatting.php on line 2442